Boulderax are the strongest and the slowest
Rock Monsters
. They are also quite dumb but enjoy smashing things so much that they often forget about the crystals they came for.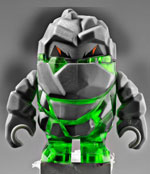 They are the green Rock Monsters.
Set Information
Edit
Boulderax has only been released once with the Mine Mech.
Ad blocker interference detected!
Wikia is a free-to-use site that makes money from advertising. We have a modified experience for viewers using ad blockers

Wikia is not accessible if you've made further modifications. Remove the custom ad blocker rule(s) and the page will load as expected.